Click To Enlarge
Wall mounted touch panel led dimmer is a new high-end controller . Glass panel design looks beautiful and fashionable. It adopts high precision capacitance touch control chip, increases the touch sensitivity, reduces trigger which caused by mistake. It is used for controlling a variety of lamp whose light source is LED. For instance, point source of light,flexible light strip, panel lights etc.In addition,it can be connected convenient, use easily and other advantages.
.Technical Parameters for wall mounted touch panel led dimmer:
working temperature: -20-60

°C

supply voltage: DC12~24V

output:2 channel(2 channel are with same effection)

external dimension: L86ΧW86ΧH32 mm

packing size: L105ΧW105ΧH47 mm



gross weight: 170g

static power consumption: <1W

output current: <4A*2

output power: 12V<96W, 24V<192W
.External Dimension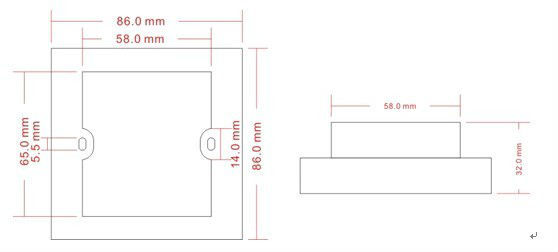 Remark:
1. Connect the load wire for first, following connect the power wire; Before power on,pls make sure all wire were connected correctly and no short circuit.
2.The range of supply voltage is DC12V~DC24V.Controller may be demaged out once exceed the voltage ranges.
3.For the panel is made of glass,pls gently install it.
4.DO NOT OVERLOAD.
Package includes.:
1 X Wallmount Single color dimmer

touch panel led dimmer,Hot selling wall mounted single color